Witness

Posts: 14794
Joined: Thu Sep 19, 2013 5:50 pm
Has thanked: 1735 times
Been thanked: 2326 times
Sounds somehow familiar…
---
Abdul Alhazred

Posts: 69331
Joined: Mon Jun 07, 2004 1:33 pm
Title: Yes, that one.
Location: Chicago
Has thanked: 2754 times
Been thanked: 1056 times
I notice he is dressed like an infidel, even if he got the beard right.
Any man writes a mission statement spends a night in the box.
-- our mission statement
plappendale
---
Witness

Posts: 14794
Joined: Thu Sep 19, 2013 5:50 pm
Has thanked: 1735 times
Been thanked: 2326 times
Seems to target UK & Australia?
Bruce could convert and… double, even quadruple, his marital bliss!
---
Witness

Posts: 14794
Joined: Thu Sep 19, 2013 5:50 pm
Has thanked: 1735 times
Been thanked: 2326 times
The Times of Israel wrote:

Jerusalem museum censors evolution exhibit to avoid offending ultra-Orthodox

The Natural History Museum in Jerusalem has been keeping an exhibit on human evolution covered under a sheet to avoid offending ultra-Orthodox visitors, and a staff member earlier this month asked a customer to leave when she inquired why the museum was censoring the display.

"I was saddened by it and rather shocked," the visitor, Chaya David, told The Times of Israel following the incident. "It's unwarranted and illegal."

The Hebrew-language display, titled "The beginning of human evolution and culture," details the stages of the gradual transformation from apes to the modern homo sapiens, complete with various skulls, models and ancient hunting tools along with written explanations.

[…]

The museum said it had received approval from municipal authorities to hide the exhibit, along with two other displays on dinosaurs and on the human body and sexuality, during visits by ultra-Orthodox groups.
https://www.timesofisrael.com/jerusalem-museum-censors-evolution-exhibit-to-avoid-offending-ultra-orthodox/
Well, yes, science could trigger them.
---
Abdul Alhazred

Posts: 69331
Joined: Mon Jun 07, 2004 1:33 pm
Title: Yes, that one.
Location: Chicago
Has thanked: 2754 times
Been thanked: 1056 times
So it's not really hidden from those who want to see it.

A reasonable compromise.
Any man writes a mission statement spends a night in the box.
-- our mission statement
plappendale
---
Witness

Posts: 14794
Joined: Thu Sep 19, 2013 5:50 pm
Has thanked: 1735 times
Been thanked: 2326 times
South China Morning Post wrote:

How Mandarin is conquering Africa via Confucius Institutes and giving China a soft-power advantage

Already Africa's most important economic partner, China is also leaving a cultural footprint across the continent with more than 50 Confucius Institutes teaching Mandarin to students eager to get jobs at Chinese companies

[…]

Fall complains that his students nowadays find it impossible to get visas to study in Europe or the US. The Chinese government, on the other hand, has eased visa requirements for Senegalese students, and each year it funds scholarships for 50 of the best students from the Confucius Institute to study Mandarin at Chinese universities.

The popularity of Chinese language learning has increased in recent years across Africa. Evidence suggests ambitious young Africans are increasingly inclined to take up Mandarin as a way to land a dream a job in China or benefit from China's growing influence on the continent.

"There's a momentum building for Chinese," Fall says. And with more than 50 Confucius Institutes across the continent, there are also signs that Mandarin is beginning to challenge the ubiquity of European colonial languages in African countries.
http://www.scmp.com/lifestyle/article/2146368/how-mandarin-conquering-africa-confucius-institutes-and-giving-china-soft
No colonial past (for now) + money.
---
Witness

Posts: 14794
Joined: Thu Sep 19, 2013 5:50 pm
Has thanked: 1735 times
Been thanked: 2326 times
Let's, at least temporarily, incorporate Austria into the Orient.
WaPo wrote:Austria to close 7 mosques, expel imams in crackdown

Austria's government said Friday that it is closing seven mosques and plans to expel imams in a crackdown on "political Islam" and foreign financing of religious groups.

Chancellor Sebastian Kurz said the government is shutting a hardline Turkish nationalist mosque in Vienna and dissolving a group called the Arab Religious Community that runs six mosques.

The actions by the government are based on a 2015 law that, among other things, prevents religious communities from getting funding from abroad. Interior Minister Herbert Kickl said the residence permits of around 40 imams employed by ATIB, a group that oversees Turkish mosques in Austria, are being reviewed because of concerns about such financing.

Kickl said that, in two cases, permits have already been revoked. Five more imams were denied first-time permits.

The conservative Kurz became chancellor in December in a coalition with the anti-migration Freedom Party.
[…]
Austria's move angered the government in Turkey, where President Recep Tayyip Erdogan's spokesman said the decision "is a reflection of the Islamophobic, racist and discriminatory wave in this country."

"It is an attempt to target Muslim communities for the sake of scoring cheap political points," spokesman Ibrahim Kalin wrote on Twitter. He added that "the Austrian government's ideologically charged practices are in violation of universal legal principles, social integration policies, minority rights and the ethics of co-existence."
https://www.washingtonpost.com/world/europe/austria-to-close-7-mosques-expel-imams-in-crackdown/2018/06/08/f9aaa652-6aea-11e8-a335-c4503d041eaf_story.html?noredirect=on&utm_source=reddit.com&utm_term=.db952ef0e9a2
Fact is that Erdogan has an important electorate in Germany and Austria, and would very much like to hold political meetings there. (And keep his commoners under strict scrutiny too.)
---
Witness

Posts: 14794
Joined: Thu Sep 19, 2013 5:50 pm
Has thanked: 1735 times
Been thanked: 2326 times
https://www.youtube.com/watch?v=FJptGLuTJCo
Don't mess with Indian ladies!
---
Anaxagoras

Posts: 20757
Joined: Wed Mar 19, 2008 5:45 am
Location: Yokohama/Tokyo, Japan
Has thanked: 1304 times
Been thanked: 1092 times
Vogue Arabia cover featuring Saudi princess sparks backlash
Although apparently this particular "backlash" isn't coming from the usual suspects?
The cover of Vogue Arabia's June issue, featuring a Saudi princess lounging in the driver's seat of a red convertible, has drawn widespread criticism following a string of arrests of women's rights activists.
The June issue, which claims to be "a celebration of the trailblazing women of Saudi Arabia" features Princess Hayfa bint Abdullah al-Saud, the daughter of the late King, pictured glamorously on the front cover. It was intended to mark the end of a ban on female drivers.
Critics, however, have accused the title of being tone deaf, pointing out that at least 11 activists have been arrested since May 15, most of whom are women who have fought for the right to drive.
According to a state security spokesman, the women arrested were accused of wanting to "destabilize the kingdom and breach its social structure and mar the national consistency."
Many of the detainees were held incommunicado, while state media quickly labeled the women as "traitors" and "agents of embassies."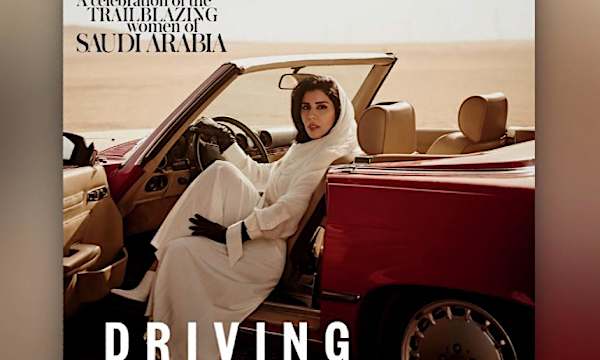 OK, I see the point. Vogue is just being clueless here. Vogue also infamously did
a puff piece
about Bashar Assad's wife called "A Rose in the Desert" back in 2011. Being Vogue, they will always err on the side of flattering the rich and powerful and glamorous, rather than pointing out their abuses.
A fool thinks himself to be wise, but a wise man knows himself to be a fool.
William Shakespeare
---